Our Ragdolls Are The Cat's Meow
Welcome to Bakerviewrags!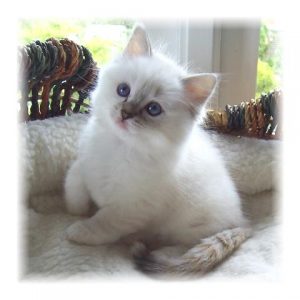 WHO ARE WE? 
Bakerviewrags is a quality home based TICA registered Ragdoll cattery located in Northwest Washington State with a gorgeous view of Mt. Baker and a short walk to the Ocean.  Kittens grow up accustomed to those relaxing salty ocean breezes!
OUR BEGINNING…
A customer came into our Ice Cream Shop telling us about a cat that jumped off a patio of the condo above us – landing on our 'ragtop' Jeep!  It was a fateful introduction!  We have been breeding Ragdoll kittens for almost 20 years now.  Previously located on the Canadian side of the border in White Rock, many of our cats carry our Whiterockrags cattery name.
Relocating to Washington State brought about a need for a change in name only to – Bakerviewrags.
OUR GOAL!
In breeding we are always striving to produce that 'perfect' Ragdoll that conforms to the Ragdoll Standard for the Show Rings!
Our ultimate goal in breeding is to produce healthy, happy, socialized Ragdoll kittens with that unique and wonderful Ragdoll personality.  Kittens are lovingly raised underfoot as part of our family. They are cuddled and socialized from birth with our 2-legged as well as 4-legged family.
CHRISTMAS KITTENS — AT  REDUCED PRICES  —  for that PURRFECT CHRISTMAS GIFT!!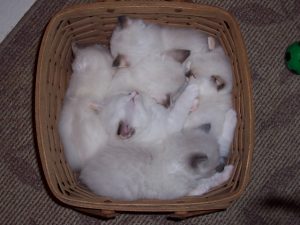 NEW ON THE HORIZON!
We started our breeding with a Tortie girl and very soon added a blue lynx point girl and over the years have added more colors and patterns as each is so appealing and unique!  Our latest venture – along with Kristie of Longfellow Ragdolls – has been working with Cinnamon and Fawn completing our full Ragdoll color palette!
REGISTERED WITH TICA
Cattery and kittens are registered with TICA (The International Cat Association). Our kittens are individually assessed for adoption readiness, generally between 11-13 weeks of age.  They will have received their age appropriate vaccinations, deworming, and a 2-year health guarantee.  Breeder lines have been tested as negative for HCM.
SERVICE AREA
We are located about 2 hours north of Seattle Washington and service clients in Washington, Oregon, Idaho, California, Alaska and across the US as well as across the border in Canada.  Shipping is available if needed to get your furry one to you!  We also have a pet courier that works with us to hand deliver your new bundle of love!  We can make it happen!
KITTENS, KITTENS, KITTENS!
Kittens are available to reserve! New litters that will be posted on the website when they are ready to be reserved.  The new litters will include seal, blue, red, tortie, chocolate, lilac and now the occasional Cinnamon and Fawn including lynx and patterns will include points, mitted, bicolor and MINK.  Place a deposit NOW to reserve your DREAM kitten!!!
Take a look at our most current kittens for sale here.
What customers are saying to us:
"We just want to give you an update on how "little" Benj is doing! He's been such a sweetheart and we really love him. Super affectionate and afraid of absolutely nothing. Our friends come over just to see him and they constantly tell everyone about how great he is!"
"I hope this e-mail finds you well. I also hope you remember a boy born on April 28th , 2015 to Bela and Jackson. He is named "Skyler". He is growing well and we love him dearly. I attached his current photo to you. He is healthy, playful and follows me everywhere. He is such a great companion, thank you for this lovely boy."
"I received my kitten! What a super, noisy boy he is. He is purrific. I am amazed at how relaxed he was almost immediately. Not ever having a cat that wasn't a rescue almost all my cats had questionable beginnings and many of them developed "quirks" that weren't always pleasant. I think kittens are probably like children in that a secure pleasant home up bringing makes for a better adjusted cat.  In so many ways I can sense "Tiki's" easy nature and adjustment. I know these are also characteristics of the breed.  You did a great job raising my boy. This is definitely a special cat! Thanks so much."
"I must begin by thanking you for my beautiful boy Nero. He came into my life shortly after I lost my beloved Himalayan Moses of almost 15 years. With both of us heartbroken I hoped a Ragdoll would be the right fit for my Persian who was 10 at the time. Little did I know Nero would bring the kitten back in Hershey, they would become the best of friends, and manage to help heal both our hearts.
He was almost totally white, red tail, and these big blue eyes when he initially arrived. Being my first Ragdoll I had no ideal how beautiful he would be 3 years later!  Nor did I ever imagine that I would show him at 16 months in a handful of cat shows to his Quadruple Grand Champion Alter status, and number one Ragdoll Alter in the region that year. His beauty aside I couldn't ask for a sweeter more loving companion. He is with me all the time going from room to room with me, and waiting in the window for me to come home each and every day.
How could anyone resist having another…. I certainly couldn't, and must again thank you for the next beautiful addition to my family. Levi couldn't be more different from Nero in so many ways, yet he very much the same loving companion. As I am writing this Levi is dropping toys at my feet for me to throw and retrieve. What a doll he is!!!  From his beautiful blue eyes, and sweet expression, to his therapeutic purrs!
I just simply adore my boys, the smiles and laughter they bring to my life! I can't thank you enough for your trust in me, and all you do in hand raising these beautiful little bundles of joy!!!"
"Thank you for all my beautiful boys. While they have different personalities, they are all sweet, playful and affectionate. They are the best of friends and are wonderful additions to my family. If I had room I would get 3 more!"