Looking for a healthy, well-adjusted Ragdoll kitten? We can provide you with one!  We focus on matching families with the perfect kitten.
Our Ragdoll kittens are excellent family pets, great with children, accustomed to other cats and dogs.  They are great for condo living as they are an indoor only cat.  They are very intelligent, social and easily trained to fetch a toy or walk on harness with you. 
We will assist in making the transition from our home to yours as smooth as possible and encourage questions and comments.  We also encourage clients to keep in touch as their Ragdoll kitten grows – we love pictures!
Update has just happened with new kittens that are currently only available to those with deposits in place on my waitlist.  As kitten selection takes place, the website will be updated with availability!!!   
There will be new kittens posted in the next week or so.  They will include red males and tortie females.  Patterns will include mitted and bicolors!! 
A new litter just arrived a few days ago!!  Bonny has had 3 very sweet babies – first glance looks like all 3 are males.  They will all be pointed pattern with some mink and lynx included.
Current breedings will have more kittens in all colors and patterns — place your deposit to get on our waitlist for other colors/patterns!!  Early summer kittens expected in June.
We assist our clients in Seattle, Tacoma, Olympia – Washington as well as Oregon and Idaho in receiving their kitten or cat without needing to ship – ask how we can assist you to receive your kitten!
Shipping is available at an additional cost.
Last Update May 17, 2020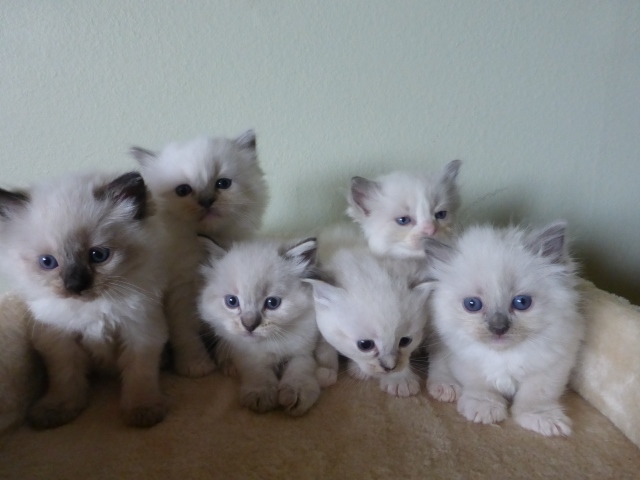 Sire:  Skor of Bakerviewrags (Chocolate Point Mitted)
Dam:  CH Bakerviewrags Maleficent (Seal Lynx Point Mitted)
DOB:  March 26, 2020
Maleficent & Skor had 6 adorable kittens!!  Two males and four female.   One of the boys is a blue bicolor and the other a seal lynx point.  There are 2 blue mitted girls, one seal lynx mitted girl and 1 seal point.  All very sweet kittens!!
Availability is indicated under their pictures – they will be ready for their new homes around the 3rd week in June!!  Let me know if you want to reserve one of these cuties!!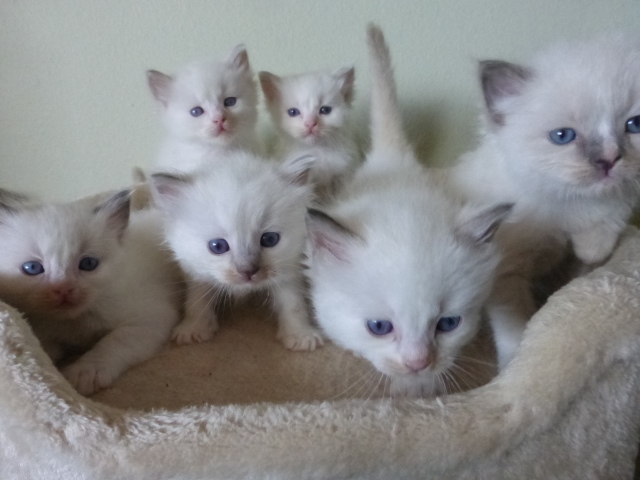 Sire:  RW QGC  BO of Bakerviewrags (Chocolate Point Bicolor)
Dam:   Posh of Bakerviewrags (Blue Point Mitted)
DOB:  April 8, 2020
Posh & Bo had 6 gorgeous kittens!!  4 are males and 2 female.  All are bicolor or mitted and a mix of chocolate and lilac, very pretty litter of babies!!  They will be ready for their new homes around early July.
The kittens in this litter are now all reserved!!
More kittens available including red (flame) bicolor males and tortie girls – they will be added to the website when a bit older and colors/patterns are able to be determined!
Looking for a specific kitten?